Dear Friends,
We are consolidating our websites and invite you to join us at Borroméo Forge Artisan Metalwork Gallery to view our complete website.
- Artist-Blacksmith, Alan Drew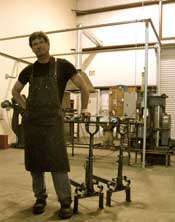 Artisan-blacksmithing derived from the ancient artisan crafts focused on armor and agriculture, which developed into an art form during the renaissance period. The early techniques and skills were developed and passed down through generations, responding to the materials and desires of the period. Artisan Blacksmithing pays reverence to the ancient practices demanding design with joinery methods that are aesthetically pleasing; heating, hammering and forging to resize the metal, drawing out the depth of character while developing the patina.
There is an intimate relationship between the metal, the artist and the process. Each piece of metal whether mild steel, wrought iron or bronze has a unique elemental composition that responds differently to heat and hammering. In the end, each and every piece carries its own unique character just like the elemental materials from which it was created.